Custom Blinds underwent a re-branding a couple of years ago, with a new logo, color scheme and website. We have since been expanding that new branding to all of our operations. And the latest part of the business to get the new treatment is our van, and we couldn't be happier with the results.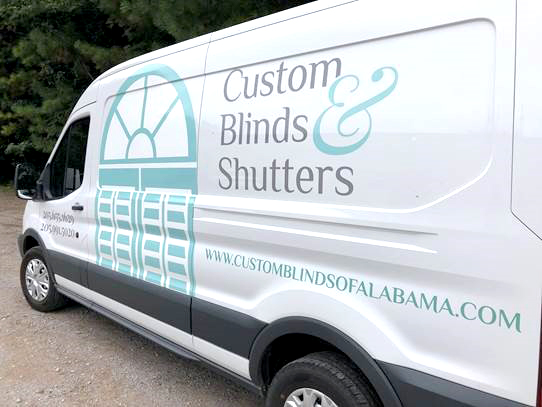 When we redesigned our company brand, we knew it was time for a refresh, but we weren't sure where to start. We reached out to local digital marketing firm, dandelion marketing, and explained what we wanted to do.
"I asked Alli at dandelion to look at my current logo design and let me know what she thought. She asked me several questions about the company and our clientele. When she came back to me with the proposed redesign of my logo, I was not a fan at first and I expressed my opinion.

She reminded me that I had said that the majority of our customers are women. She said the existing logo lacked creativity and was too masculine to appeal to my stated audience.

I laughed because I had designed it myself, and I knew she was right."
I don't ever remember being complimented on our logo or van before the rebranding, but since the redesign, we have received many compliments on both.
And that's how we came to have our gorgeous new van. When you see us out and about in Greater Birmingham, you know another homeowner is getting beautiful new window treatments!